Reading Time:
16
minutes
Ahhh, the classic tradition of summer camping: breathing in the crisp evening air and roasting marshmallows over a crackling fire in a nearby California lakes campgrounds.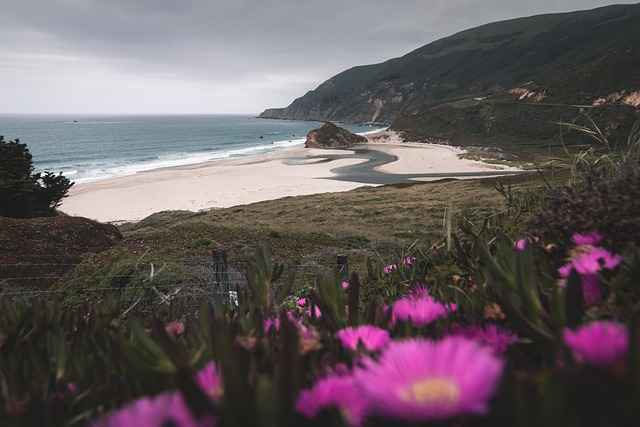 From calm alpine lakes nestled near towering mountains to wide sun-drenched reservoirs nestled amidst rolling hills, some of America's most jaw-droppingly beautiful spots for the best campgrounds that can be found right here in The Golden State.
Strap on your hiking boots and lace up your water shoes – it's time to explore 25 scenic places where campers can make a splash with unforgettable memories! There may just be a nearby campground near you.
1. Lake Nacimiento
Get ready for a dazzling surprise hidden amidst California's breathtaking Santa Lucia Mountains in San Luis Obispo County! Behold, the enchanting Lake Nacimiento! Its captivating, shimmering waters beckon you to explore its many sandy shores and inviting boat ramps.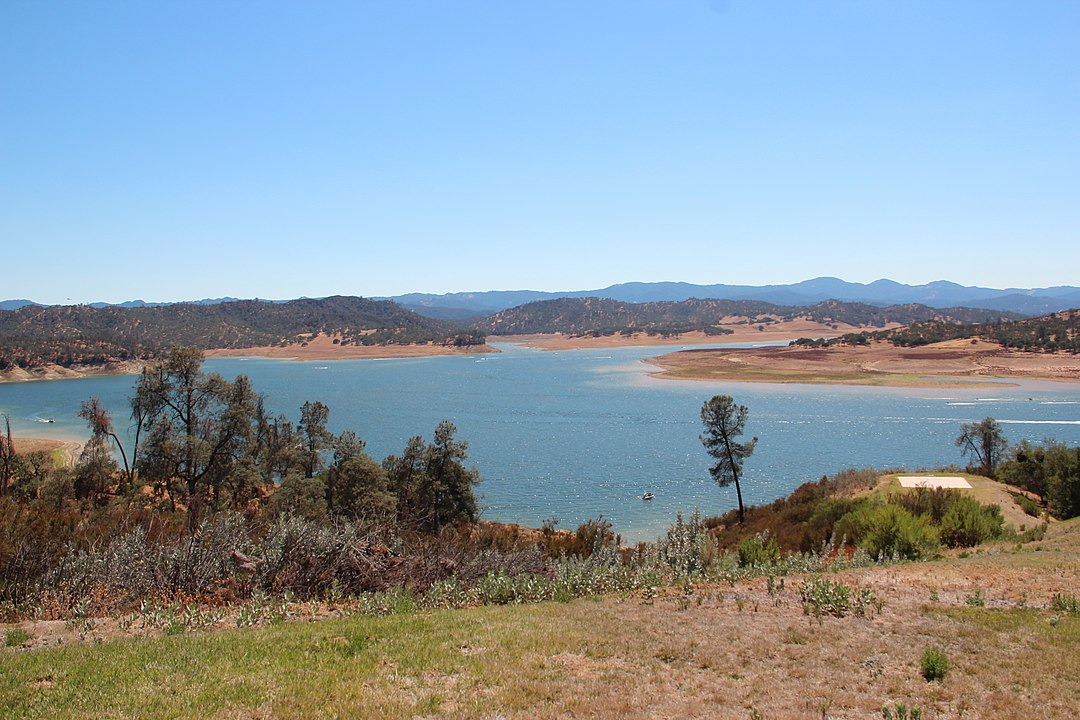 Lake Nacimiento, Thomson200 (CC0 1.0)
Take a refreshing dip, cast a line and reel in the catch of the day, or simply bask in nature's splendor. With tranquil day-trips and idyllic camping excursions on offer, Lake Nacimiento promises memorable escapades for all!
Boat Launches At Lake Nacimiento
Lake Nacimiento has several boat launches that make it easy to get your boat in the water. Boat launches include the Cole Park Launch Ramp, Cedar Point Access, Lakeshore Drive Access, Pozo Park Launch Ramp, and Nacimiento Dam Launch Ramp. All of these launch ramps provide access to different parts of the lake to explore your water sports.
2. Utica Reservoir – Sandy Flat Campground
Utica Reservoir – Sandy Flat Campground is one of the most beautiful outdoor spots in Northern California.Check out this 9-acre wonderland nestled in Nevada County!

Utica Reservoir Campsite, Chris Martin (CC BY 2.0)
Witness breathtaking vistas of the Sierra Nevada and Lake Francis while you camp, fish, and hike your heart out. Discover your new favorite getaway spot! The campground offers several primitive sites set up along the lake or hidden away in a secluded meadow that's perfect for stargazing on a clear night.
The locals love to take advantage of the sandy beach during the hot summer months and the boat ramp is always busy with people out for a leisurely paddle. Craving a thrilling weekend or a serene city detox? Utica Reservoir's Sandy Flat Campground promises memories for the ages!
3. Lake Alpine – West Shore Campground
Lake Alpine – West Shore Campground is a picturesque spot nestled in the majestic Sierra Nevada Mountains. Imagine chilling by a beautiful mountain lake, encircled by leafy woods where Mother Nature whispers in your ear.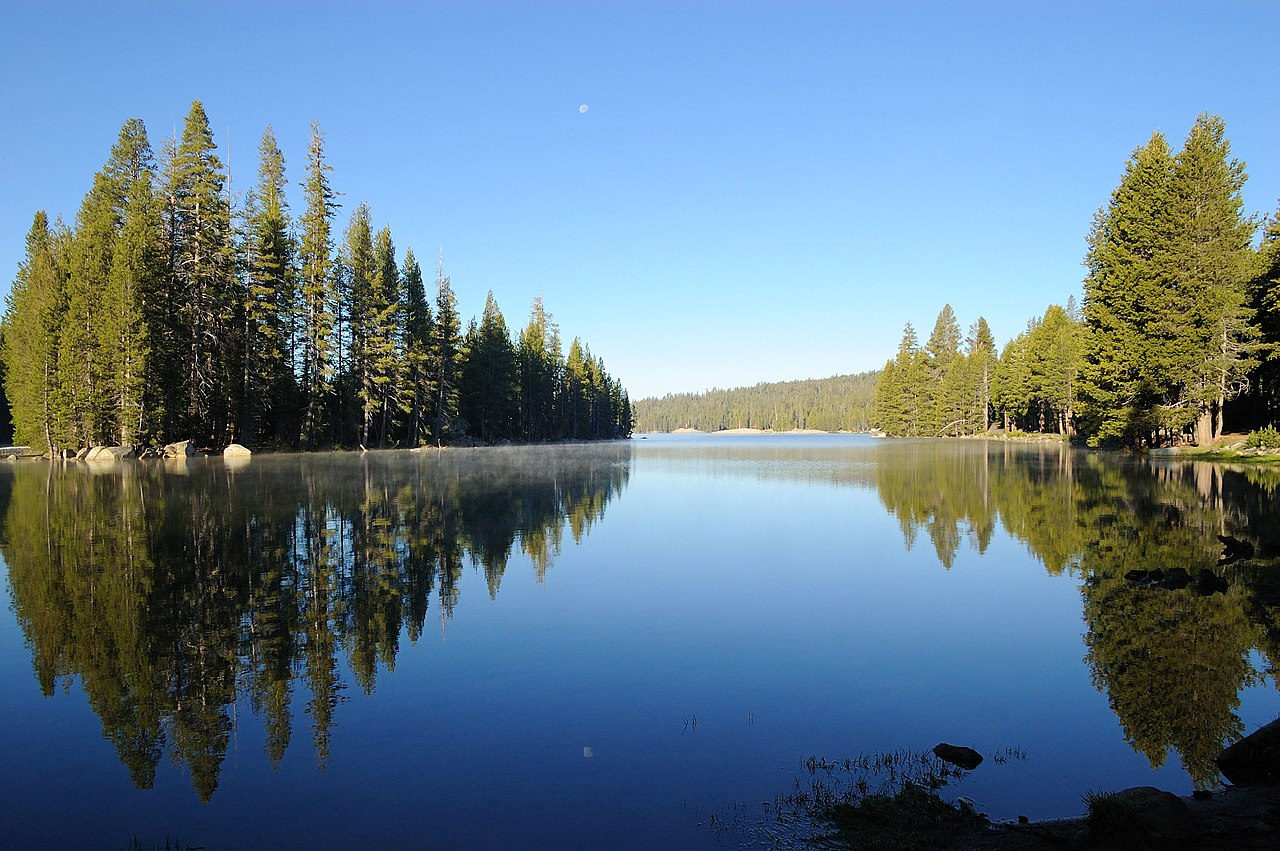 Reflections in Lake Alpine, Alpine County, Don DeBold (CC BY 2.0)
Dive into the water, so transparent you could practically touch the mermaid's treasure! Step into the realm of outdoor delight – the campground! Dive into fun aquatic escapades including swimming, fishing, and boating, or embark on a thrilling trek through nature's wonders.
Feast your eyes on breathtaking vistas while lounging by the sandy shore or munching on a picnic with beloved ones. Seek the thrill of adventure or indulge in romance, Lake Alpine – West Shore Campground has it all for every soul!
Nearby Family-Friendly Picnic Spots
If you're looking for a nearby family-friendly picnic spot while visiting Lake Alpine–West Shore Campground, there are plenty of options.
The campgrounds closest to the lake offer stunning views and tranquil scenery. Just up the road, an easy hike will take you to the beautiful Carson Falls. Enjoy breathtaking views throughout the journey and have a picnic lunch at the top of the falls.
Or, head up to Ebbetts Pass National Scenic Byway which boasts breathtaking views of mountains, meadows, and forests along with plenty of ideal picnic spots.
Finally, Calaveras Big Trees State Park is only a short drive away and offers great family-friendly hikes and scenic picnic spots that everyone can enjoy!
4. Kirby Cove Campground
Get ready for a jaw-dropping adventure at Kirby Cove Campground! Hidden in a tranquil nook not too far from the Golden Gate Bridge, this cozy haven is a dream come true for nature enthusiasts itching to break free from the city's chaos!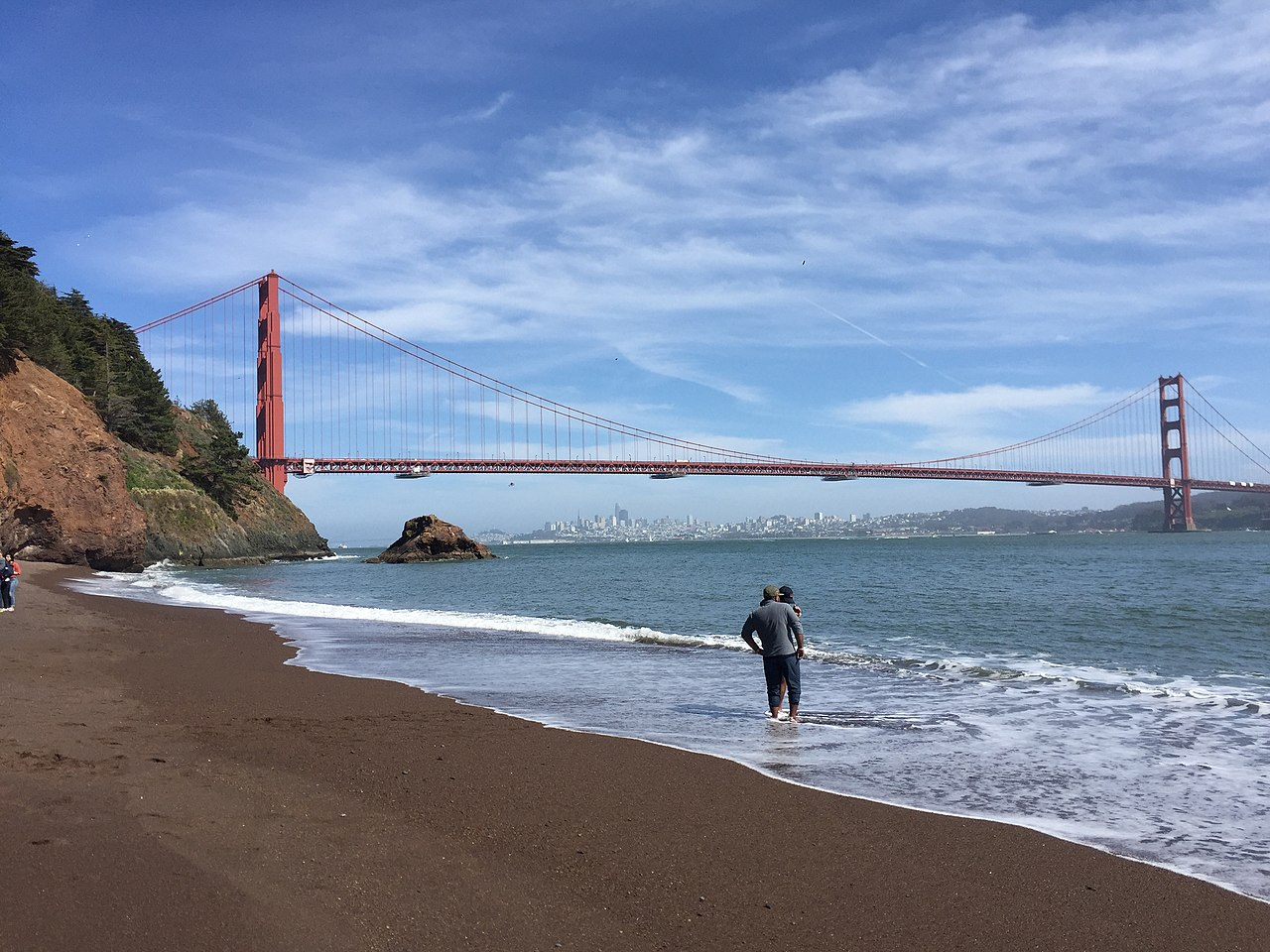 "View east from the beach at Kirby Cove", Evan0512 (CC BY-SA 4.0)
Surround yourself with vibrant greenery, befriend some furry (or scaly) neighbors, and sink your toes into unspoiled California beaches.
Pack your tent and spirit of exploration for the ultimate California dream experience!
A List Of Activities Available At The Campground
Fishing, kayaking, and sailing on the bay
Hiking trails for all levels of difficulty
Picnic areas with spectacular views
Campsites equipped with firepits and tables
Wildlife viewing opportunities
Beachcombing and tidepool exploring
Swimming or soaking in a nearby creek
5. Lakes Basin Campground, Plumas National Forest
The Lakes Basin Campground in the Plumas National Forest is a hidden gem. Set among towering pine and fir trees, it provides stunning views of the lakes below and pristine alpine meadows.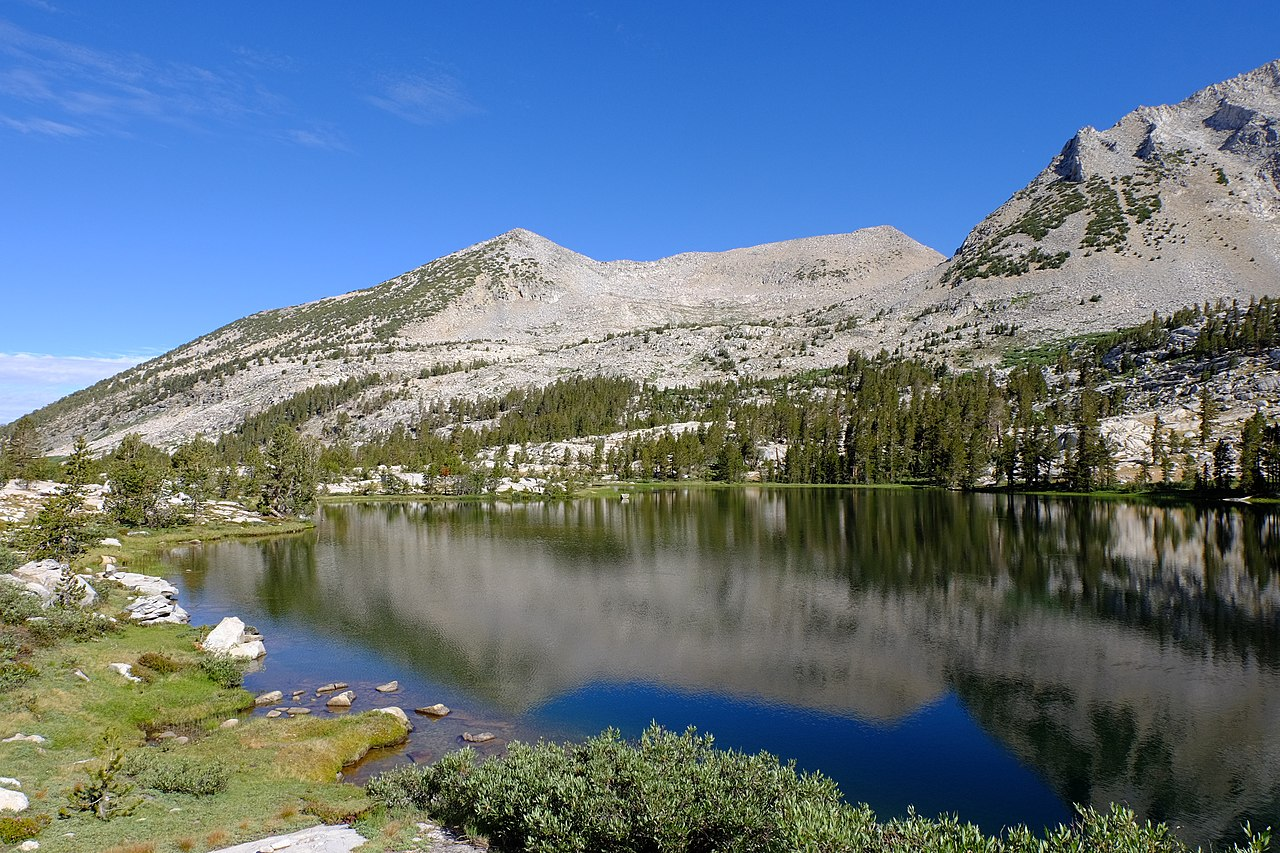 Lake Basin, David Bakken (CC BY-SA 2.0)
The campground offers two types of camping sites for tent camping and RV parking, both have modern amenities such as restroom facilities and tables. With trails that are easy to navigate, visitors can explore the area's natural beauty or challenge themselves with more strenuous hikes.
RV Parking At Lakes Basin Campground
At the Lakes Basin Campground, RV parking is available at all of the camping sites. The campground has modern amenities such as restroom facilities and picnic tables to accommodate those staying in their RVs.
Additionally, there are electric and sewer hookups available for additional convenience. Lake Don Pedro Camping
6. Lake Don Pedro Camping
Get ready for the ultimate lakeside escapade at the mesmerizing Lake Don Pedro! Picture yourself looking over the mountain views as you dip your toes into the pristine waters. Rev up the excitement with some fishing, water skiing, wakeboarding or explore the lake at your own pace with kayaking and paddleboarding.

Panoramic view of the northern arm of the Don Pedro Lake, Luzian~commonswiki (CC BY-SA 3.0)
With oodles of campgrounds scattered along the shore, you can pick your perfect spot for a serene weekend escape or an epic, action-packed outdoor extravaganza. Lake Don Pedro camping, where boredom is not an option! Lake Almanor – North Shore Campground
7. Wright's Beach Campground
Wright's Beach Campground is located on the scenic Sonoma Coast of Northern California. This campground offers both tent and RV sites with beautiful views of the Pacific Ocean.
The campground features a general store, seasonal pool, and full hookups for those seeking additional amenities.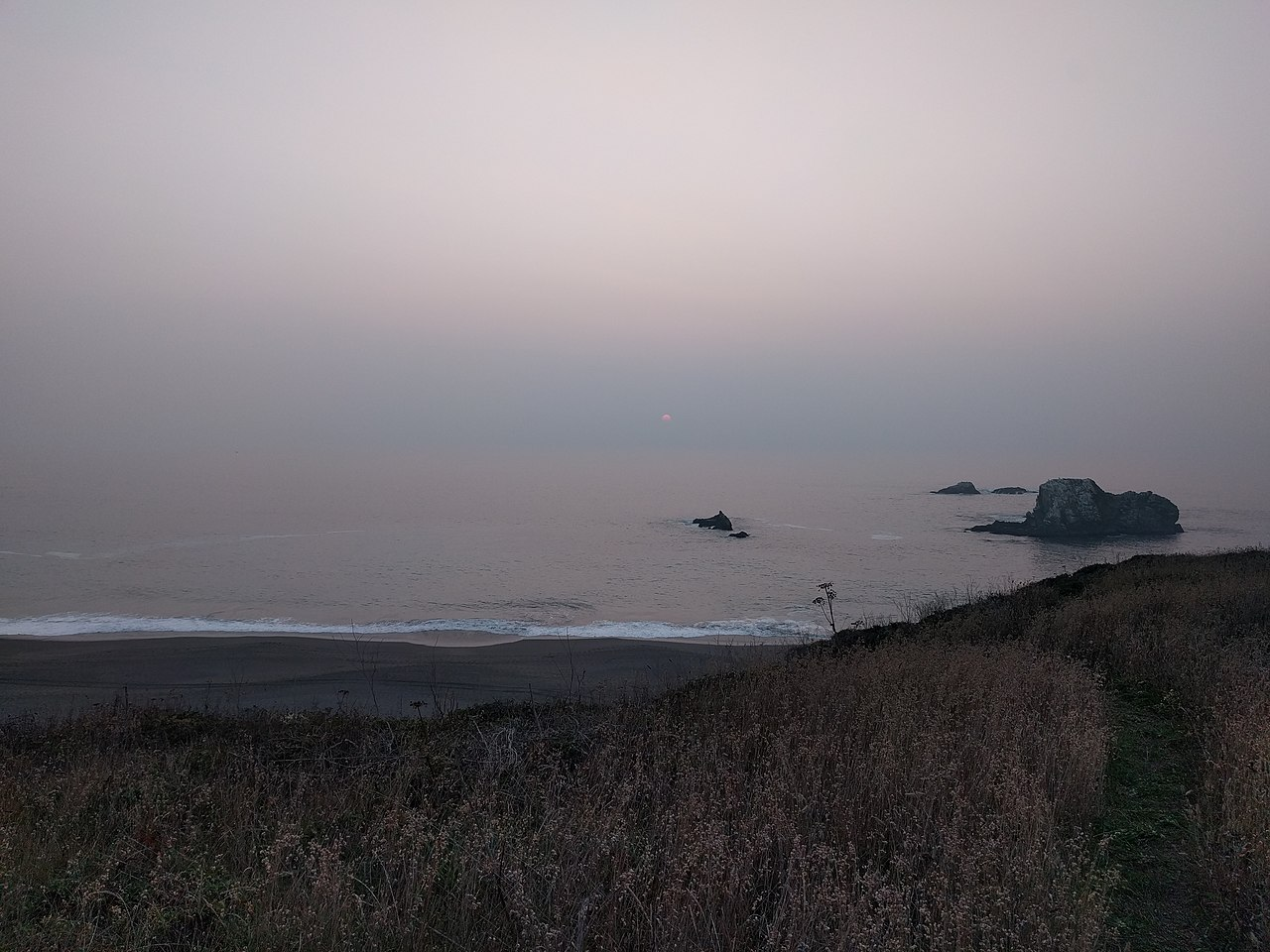 Sunset at Wright's beach, Lady_Artisma (CC BY-SA 3.0)
Whether you're a beachcomber, outdoor enthusiast or an angler – this stunning coastal getaway offers something for everyone. With its crystal blue waters and lush greenery perfect for swimming, fishing kayaking and hiking; travelers of all backgrounds can rejoice in the amazing opportunities that await them here.
8. Sierra Lake Campgrounds
Get ready to escape the daily grind and embark on a tranquil retreat at Sierra Lake Campgrounds! Imagine being surrounded by heavenly pine-scented forests in the majestic Sierra Nevada Mts, with breathtaking views and postcard-perfect photo ops galore.
Get your explorer hat on and discover nearby trails on this unforgettable adventure. So, why wait? Let the whispering pines and captivating beauty of nature at Sierra Lake Campgrounds transport you to paradise!
9. Antlers Campground, Shasta-Trinity National Forest
Welcome to the enchanting Antlers Campground, nestled amidst the majestic pines of Shasta-Trinity National Forest!
Shasta-Trinity, Carol Underhill (CC BY 2.0)
Adventure awaits just steps from the shimmering gem of Shasta- trinity Lake, – a serene oasis, perfect for peaceful nature lovers. Dive into thrilling water escapades like kayaking, channel your inner fisherman, or kick back camp-style under the starlit sky.
And if wanderlust is calling, endless breathtaking trails are ready to be conquered! With its breathtaking views and endless wildlife, Antlers Campground is a destination for those looking for some peace and serenity within nature's embrace.
Visitors can enjoy a variety of activities:
Hiking
Kayaking
Fishing
Camping
Stargazing
Photography
Swimming
10. Gold Lake
Nestled along the Sierra Nevada Mts' fringes, Gold Lake, California, sparkles with enchanting beauty.
This charming town is a treasure trove of breathtaking nature spots, where dense pine forests weave a green tapestry and sprawling lakes paint the landscape with mesmerizing splendor.
Gold Lake and Wild Goat Peak, Martin Bravenboer (CC BY 2.0)
Hiking trails offer visitors incredible views of the area's rock formations, waterfalls, and wildlife.
Its mild climate makes it perfect for camping, fishing, and swimming, with cool nights for star-gazing. People come from all over to experience this natural paradise.
Water Activities In Gold Lake
Gold Lake, California offers many water activities for its visitors. From swimming and fishing to wakeboarding and canoeing, there is something for everyone.
There are also several well-maintained marinas to explore or grab rentals from. People can also take a scenic boat tour across the lake or go whitewater rafting on the nearby rivers. Visitors of all ages are sure to have an amazing time!
11. Jedediah Smith Redwoods State Park Campground, Redwoods National and State Parks
Jedediah Smith Redwoods State Park Campground is located in northern California, within the magnificent Redwoods National and State Parks. Discover an enchanting forest haven where majestic redwoods reign, vibrant ferns dance, and playful creeks flow!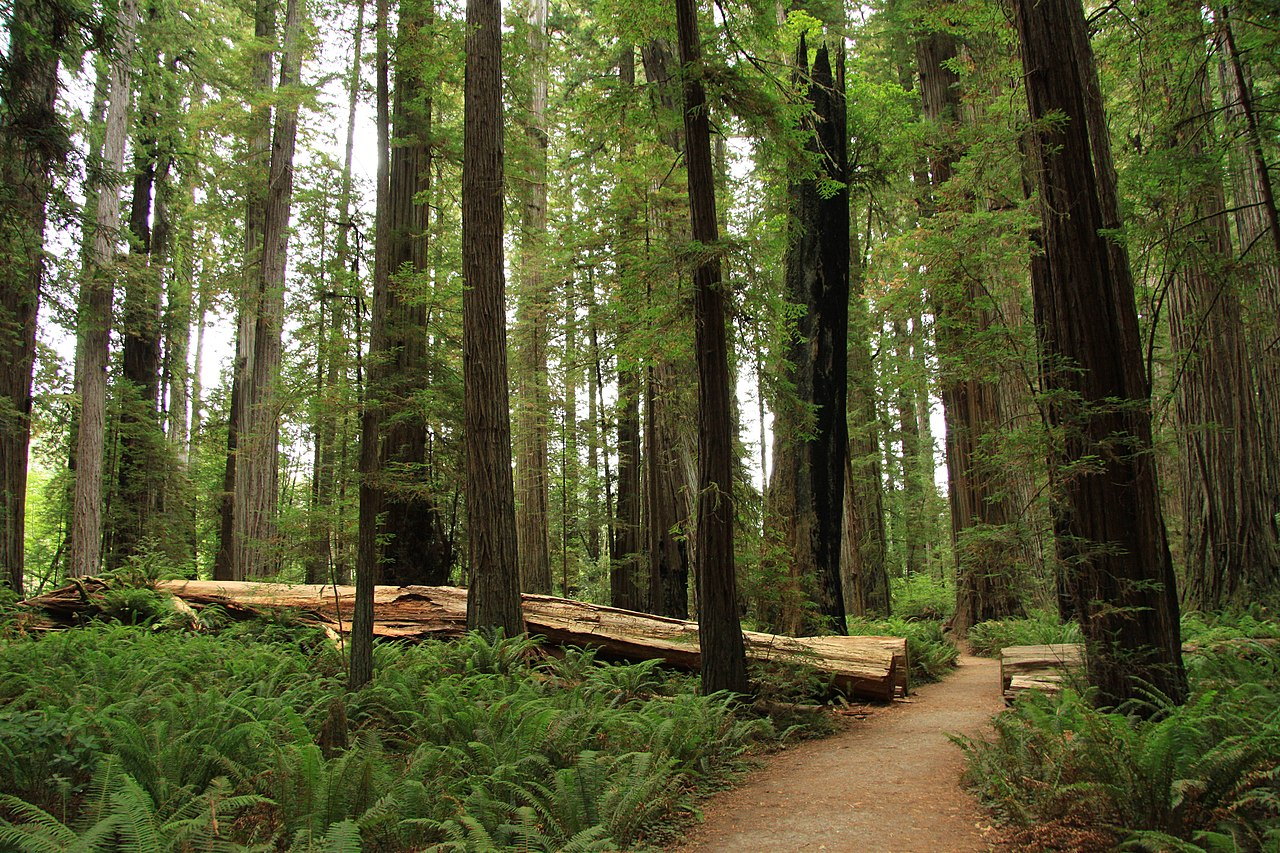 Stout Memorial Grove in Jedediah Smith Redwoods State Park, Chmee2 (CC BY-SA 3.0)
Unleash your inner explorer among 100+ campsites fit for tents and RVs alike, as you embark on a wondrous journey in one of the USA's most stunning nature sanctuaries!
Facilities Of different Campsites Within Jedediah Smith Redwoods
There are a variety of campsites available for use at Jedediah Smith Redwoods State Park Campground. Some sites have full hookups, including water, sewer, and electricity, as well as tables and fire rings.
Other campsites are more primitive, with no hookups or services but still with access to the breathtaking beauty of this incredible park.
All campsites provide easy access to restrooms with flush toilets and showers. There's something for everyone at Jedediah Smith Redwoods State Park Campground – come explore!
12. Camping Along June Lake
Discover the beauty of June Lake, nestled within the majestic Eastern Sierra Nevada Mts!
Prepare for a breathtaking adventure filled with majestic mountains and sparkling, crystal-clear waters that will leave you totally mesmerized!

June Lake Mammoth, King of Hearts (CC BY-SA 3.0)
Unleash your inner angler and dive into sensational fishing escapades, or strap on your hiking boots to explore enchanting trails wending through lush forests, sprawling meadows, and hidden coves.
Set up camp and escape into nature's embrace – the ultimate playground for relaxation and adventure!
Nearby Trails And Walking Routes
Ready for an adventure in nature's playground? Discover breathtaking mountain views and conquer epic walking mountain biking trails at the oh-so-serene June Lake! Head to the Pacific Crest Trail for an unforgettable outdoor journey!
Then, challenge yourself with a hike up Mono Pass Trail – you'll be rewarded with breathtaking views of Mono Lake. Other popular trails include Lundy Canyon, Parker Lake, and Saddlebag Lake.
All these trails offer picturesque scenery and plenty of opportunities for peaceful walks in nature.
13. Union Valley Reservoir – Sunset Campground
Pack your bags and escape to Sunset Campground at Union Valley Reservoir in El Dorado County, California! Tucked away in the awe-inspiring Sierra Nevada Mountains, discover a whimsical wonderland surrounded by nature's most enchanting artistry!
Get ready to embrace your inner adventurer with exhilarating activities like fishing, boating, and paddling. Don't worry; they're open all year and fully equipped with fire rings, tables, and everything else you need for a dreamy camping experience.
14. Yosemite National State Park Camping
Yosemite National Park is the perfect destination for nature lovers and outdoor adventurers. For those looking to stay the night, camping in Yosemite is a popular activity.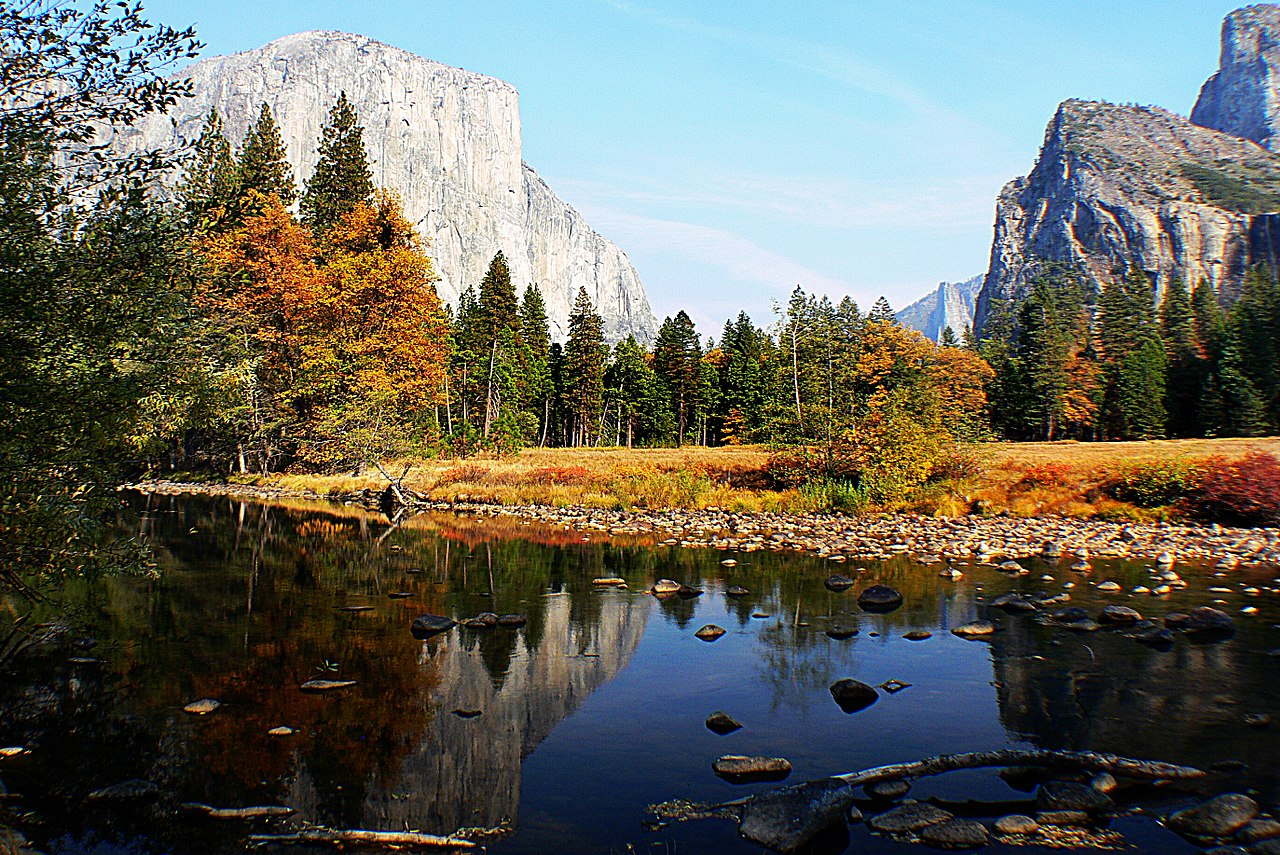 Yosemite National Park, Bernard Spragg. NZ (CCO 1.0)
There are 13 different campgrounds available with various amenities ranging from campfire rings and tables to flush toilets and running water.
Whether you're looking to stay in tents or RV sites, Yosemite has something sure to fit everyone's needs. So grab your gear and head on down for an unforgettable camping trip and experience!
15. Loon Lake – Loon Lake Campground
Discover the Secret Hideaway: Loon Lake Campground
Shhh! We've found a hidden gem amidst the stunning Cascade Mountains and the mighty Columbia River – welcome to Loon Lake Campground!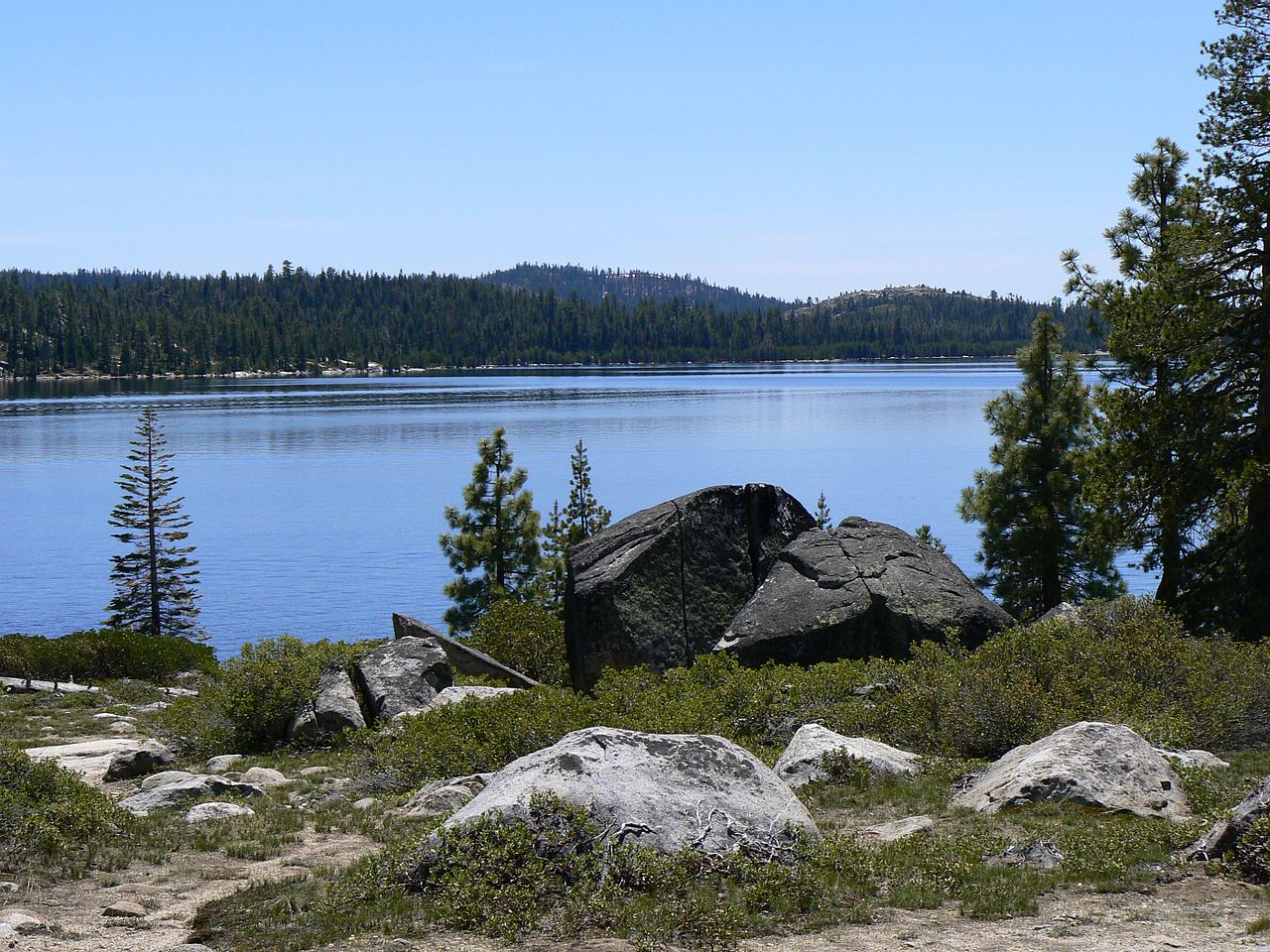 Loon Lake, Nick Ares (CC BY-SA 2.0)
A paradise for nature lovers seeking unfiltered beauty, the place teems with hiking trails to explore, boat launches to conquer and fishing spots to triumph. All that's missing is you, your bags, and an adventurous spirit!
Fishing Spots In The Area
Loon Lake Campground offers plenty of angling opportunities. Fishing enthusiasts can find ten different species of trout, smallmouth bass, and Kokanee Salmon in the deep blue waters. Other fish like crappie, walleye, catfish, carp, and northern pike are also present in the lake.
Anglers may want to check out local bait shops and other fishing information sources before they set out to experience some great fishing at Loon Lake Campground.
16. Russian Gulch State Park Campground, Mendocino Coast
Russian Gulch State Park Campground is a stunningly beautiful campground located on the Mendocino Coast. Surrounded by redwoods, lush meadows, and rugged coastal bluffs, the campground has forty campsites with picnic tables and fire rings.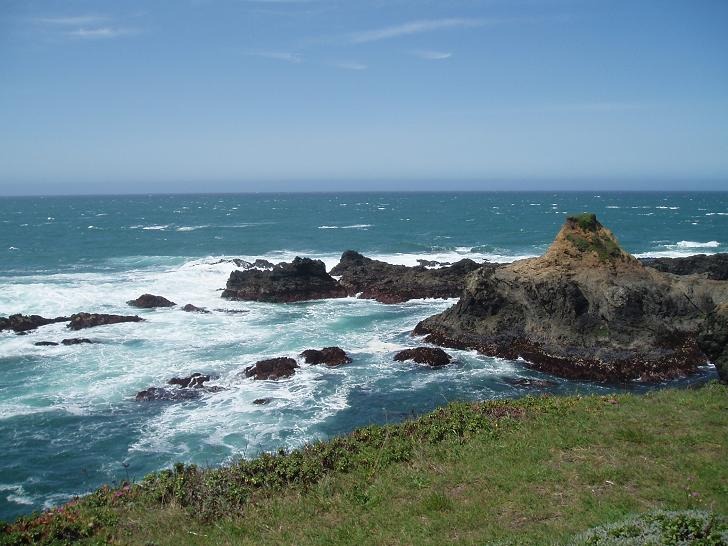 Russian Gulch State Park, California, Tom Hilton (CC BY 2.0)
Get ready for the ultimate escape! Unwind or embrace your wild side at the fantastic Russian Gulch State Park Campground! Discover hidden coastal gems, cast a line in the shimmering waters, paddle away in your kayak, or simply bask in nature's beauty.
Here is a list of nearby hiking trails to explore near Russian Gulch State Park Campground:
Navarro River Redwoods State Park Trail
Caspar Headlands Trail
Albion Headlands Trail
Manchester State Park Hiking Trails
Point Arena Stornetta Public Lands Trails
MacKerricher State Park Trails
Ten Mile Beach Hike
17. Mammoth Lakes Camping
Mammoth Lakes camping offers some stunning views of California's High Sierra, pristine lakes, winding streams surrounded by lush forests.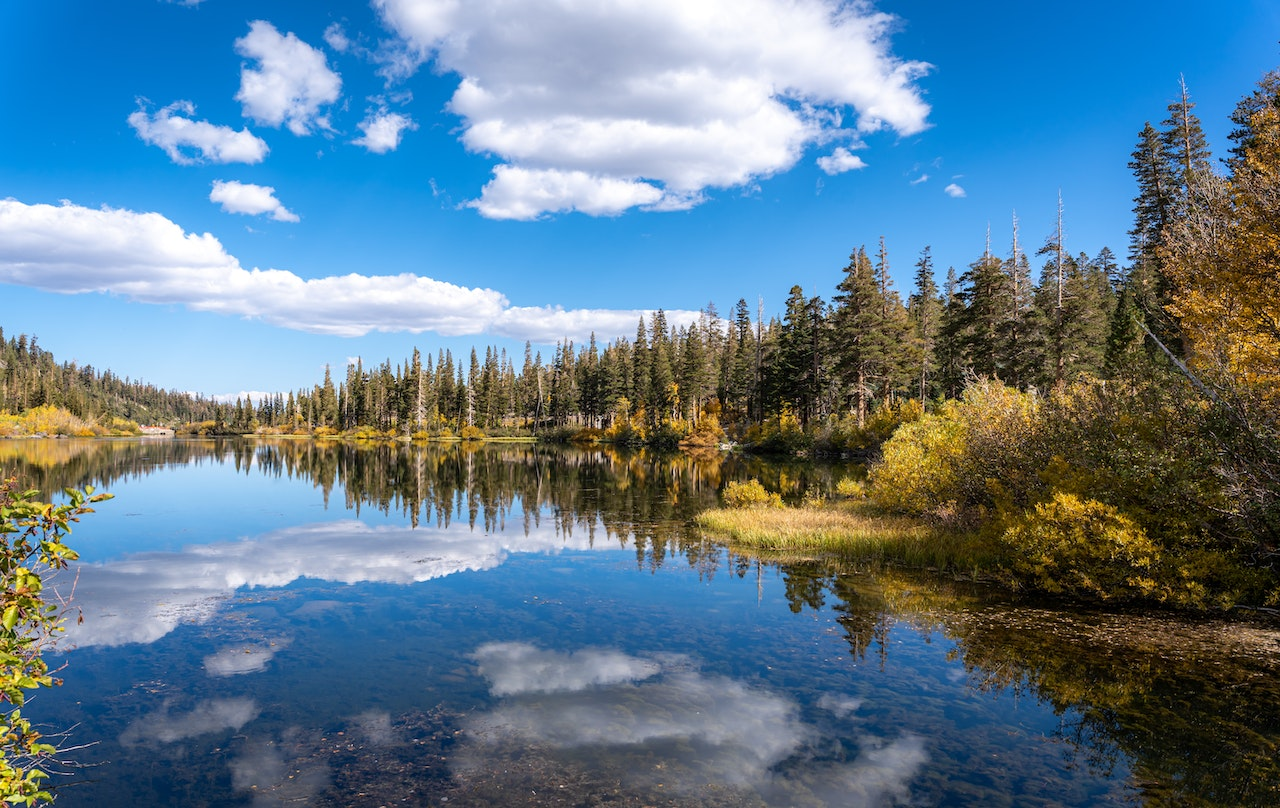 Mammonth Lakes, Soly Moses Pexels
Whether you're looking for an off-the-grid adventure or a luxury cabin stay – it's all here waiting to be explored. Fish in serene waters; hike through breathtaking trails; take time out to marvel at nature's splendor– then settle down under starry skies that seem closer than ever before.
With its unforgettable landscape and myriad activities perfect for everyone, your next getaway should begin right here at Mammoth Lakes Camping Lake Berryessa Camping.
18. Camping at Lake Isabella
Lake Isabella awesome! Nestled amidst jaw-dropping vistas and a serene ambience, it's the ultimate chill zone to escape reality.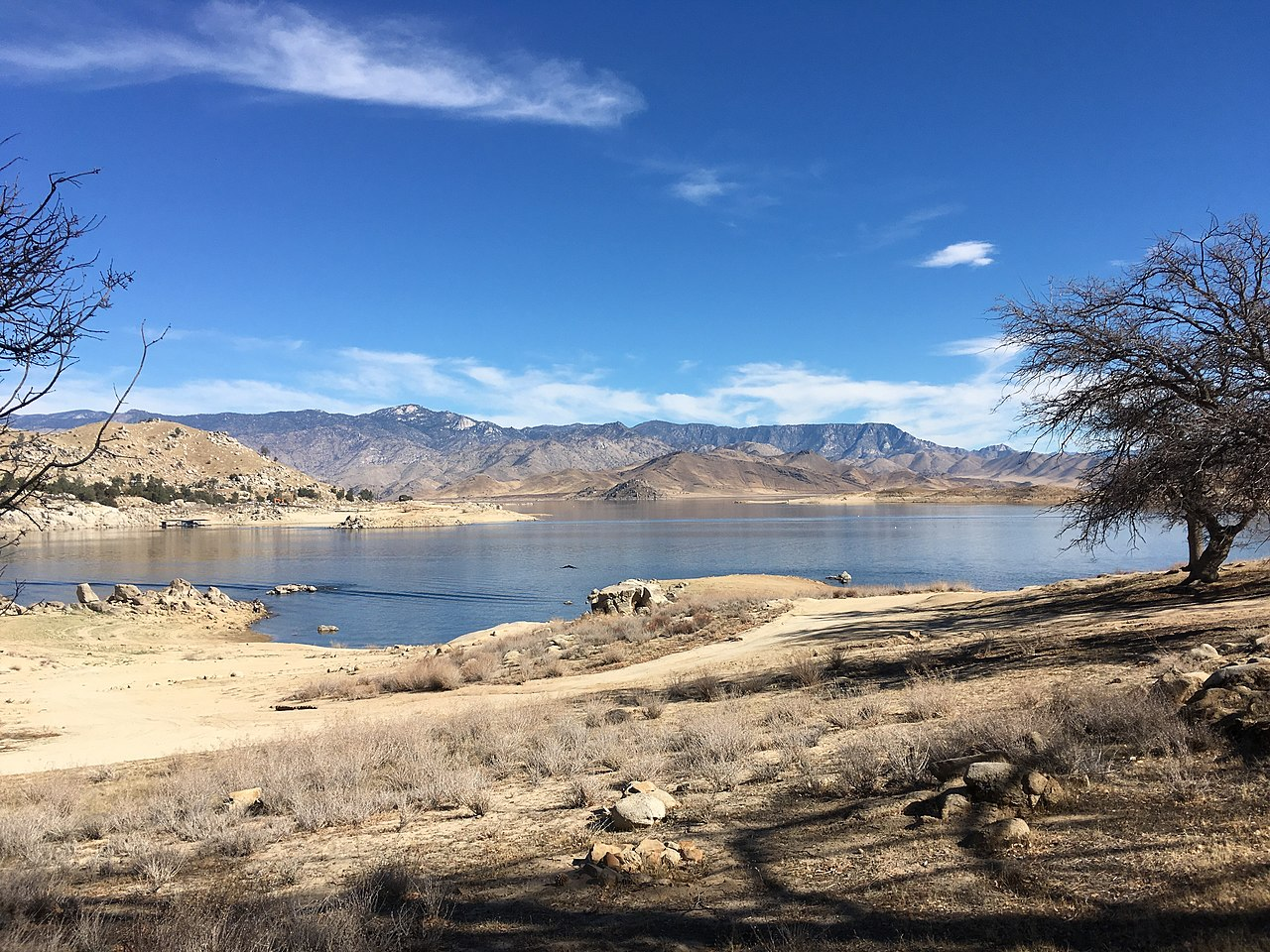 Lake Isabella, California, Gillfoto (CC BY-SA 4.0)
Dive into an array of exhilarating adventures like kayaking, paddleboarding, fishing, and swimming, or surrender yourself to nature's beauty on picturesque hikes and trails.
Lake Isabella – the magical getaway that etches memories on your heart forever!
19. Campground, Lassen Volcanic National Park
Manzanita Lake Campground is nestled in the stunning Lassen Volcanic National Park, offering campers an unforgettable getaway experience.
From the tranquil lake waters to the miles of picturesque trails, visitors will find plenty of activities to enjoy.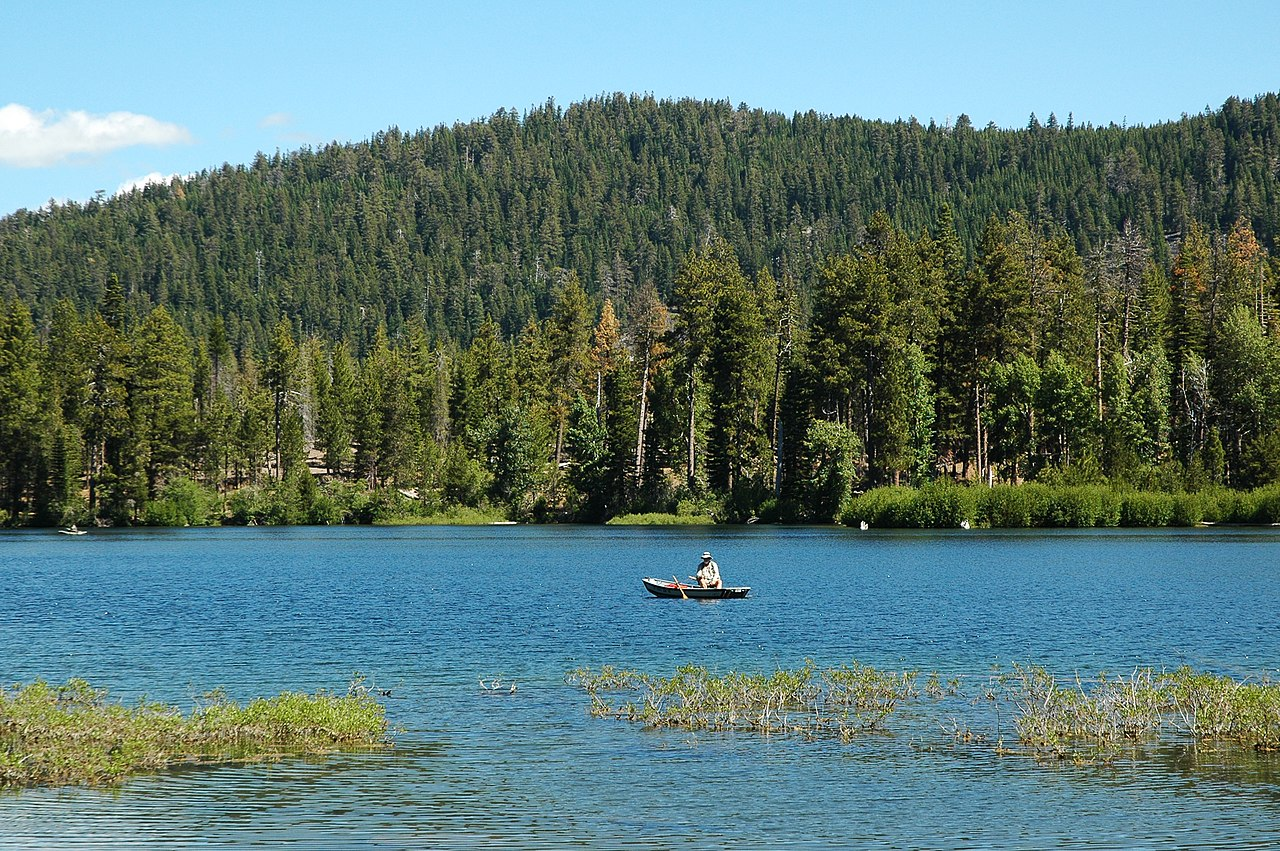 Fisher on Manzanita Lake, DimiTalen (CC BY-SA 3.0)
Get ready to embark on an epic journey full of discovery and tranquil vibes! Our campground is loaded with awesome extras like sparkling showers, cozy fire pits, and electric connections.
Prepare to be dazzled by jaw-dropping sights that'll create unforgettable camping memories!
Some Activities for Campers Visiting Manzanita Lake Campground
Escape to the magical Manzanita Lake, where adventure and relaxation collide! Wander along the serene lake, soaking up jaw-dropping views like a thirsty sponge.
Craving some adrenaline? Race through the landscape on mountain bikes, gallop on horseback or rev up on an exhilarating ATV tour! Adventure awaits!
20. Pfeiffer Big Sur Campground
Get ready to pitch your tent in paradise! Pfeiffer Big Sur Campground is calling all adventure-seekers and nature-lovers for the ultimate camping extravaganza.Get ready for a wild adventure in California's breathtaking Big Sur!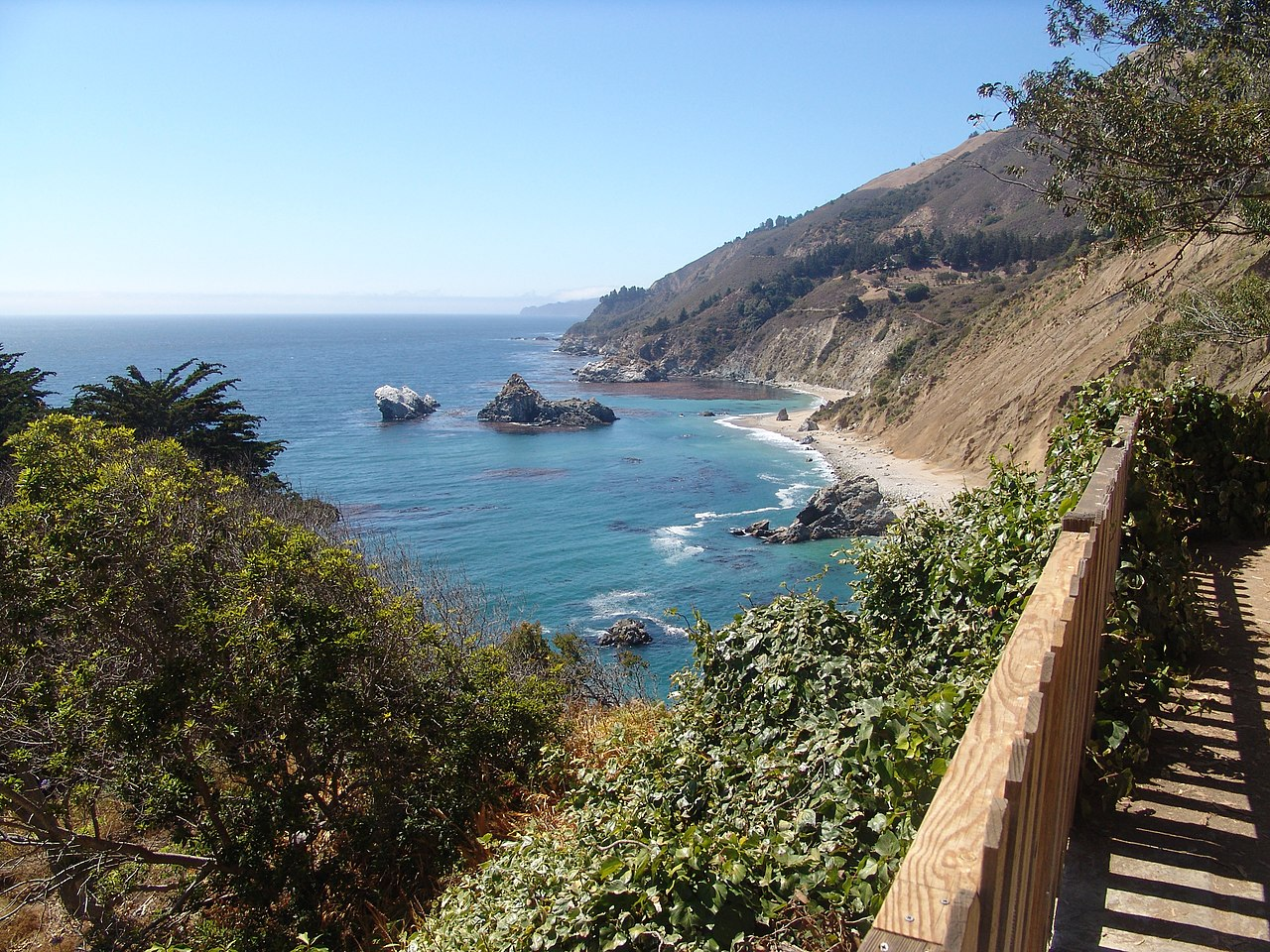 Pfeiffer Beach, National Archives and Records Administration, Public domain, via Wikimedia Commons
Immerse yourself in the enchanting redwood wonderlands, be captivated by those jaw-dropping ocean views, and brace yourself for endless thrills!
Whether it's a tranquil retreat or an adrenaline-fueled fiesta you crave, look no further – Big Sur's lush serenity and jaw-dropping beauty promise memories to last a lifetime. So grab your gear, and let's get wanderlusting!
Best Lake Camping In Northern California
21. Shasta Lake Camping
Get ready to be blown away by Shasta Lake camping, a nature lover's paradise! This Northern California gem boasts a crystal clear lake hugged by majestic mountains, making it the ultimate outdoorsy retreat.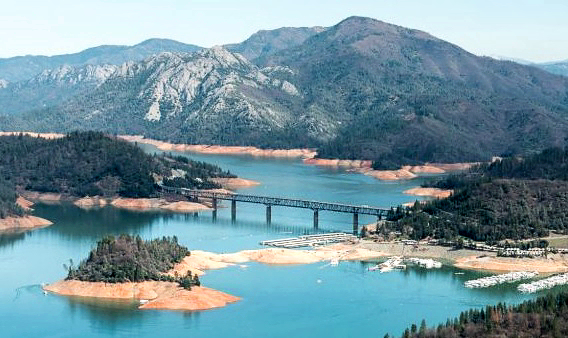 Shasta Lake, California Department Of Water Resources, Public domain, via Wikimedia Commons
No wonder it's on every camping enthusiast's bucket list! The campsites are perfect for both RVers and tent campers, with plenty of space for larger groups.
Dive into a paradise of aquatic adventures, from splashing about in fish-filled waters to conquering waves on a kayak or canoe! Bask in the awe-inspiring presence of majestic Mt. Shasta, and escape to a tranquil haven where life's worries simply melt away.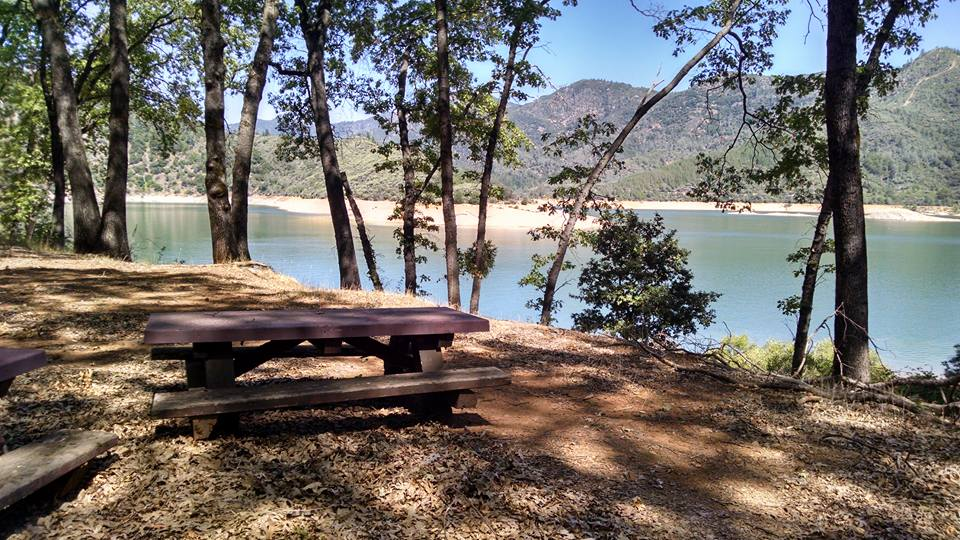 Picnic Table Near Shasta Lake, Pacific Southwest Region 5, Public domain, via Wikimedia Commons
Here are some activities to enjoy while camping at Shasta Lake:
Fishing
Boating
Swimming
Canoeing and Kayaking
Hiking
Biking
Campfire Tales
Stargazing
Wildlife Spotting
22. D.L. Bliss State Park Campground, South Lake Tahoe
Ready to embark on an epic outdoor adventure amidst jaw-dropping mountain landscapes?
Look no further than D.L. Bliss State Park Campground, your dreamy South Lake Tahoe, California basecamp! Roam 2,000 acres of enchanting terrain, amble through picture-perfect forests and valleys, or conquer those majestic peaks to earn lake views that'll leave you breathless.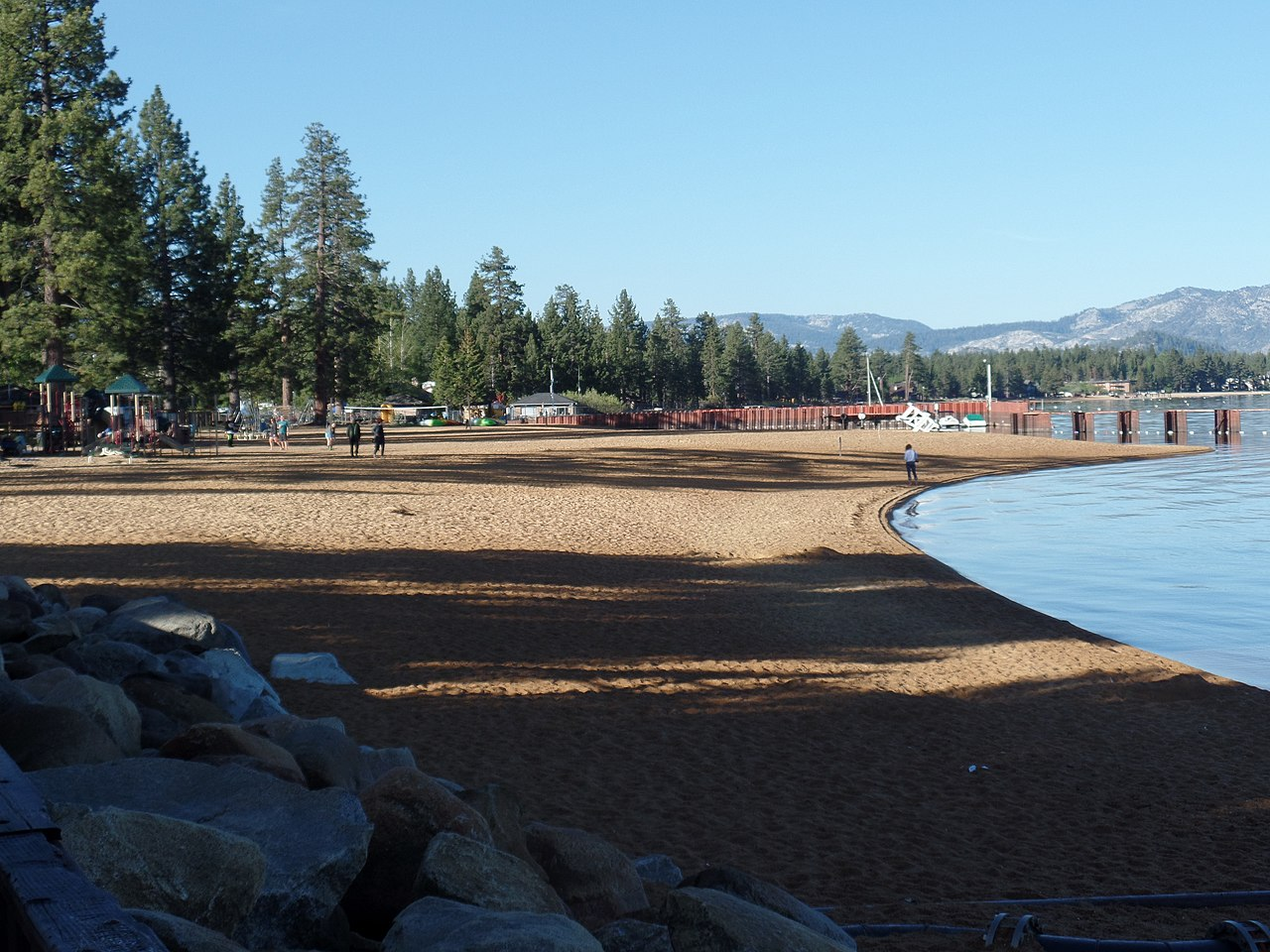 Lake Tahoe,Vince Migliore, (CC BY 3.0)
Come get lost (but not literally) in this magical Tahoe national forest oasis! Visitors can also take advantage of the swimming beaches and fishing spots at nearby Fallen Leaf Lake or set up camp along one of the park's many scenic sites.
All camping sites are equipped with fire pits and picnic tables for your convenience and enjoyment, so you'll never be far away from nature's beauty!
The park also provides access to numerous recreational sites, including a visitor center, museum, amphitheater, and educational programs about local wildlife.
Whether you want to relax in the peaceful solitude of nature or explore all that this incredible site has to offer, D.L. Campground is sure to make your stay unforgettable!
Camping Rules and Regulations at D.L. Bliss State Park Campground
Before you dive into the awesomeness, don't forget to fill out a registration form found online or snag one upon arrival. Also, make sure to have proof of insurance for your trusty ride when exploring this magical wonderland.
Let the fun times begin! 🏕️🚙 Campfires are permitted only in designated fire rings or grills and are subject to local fire restrictions, so make sure to check with park rangers before starting a blaze.
Get ready for an exciting adventure with your furry friend, just remember to keep them safely leashed or caged during your stay. No need to bring the whole pack, though – we're rocking a cool one-pet-per-site policy all year long! ✌🐶🐾
Lastly, alcohol is prohibited anywhere within the boundaries of the park, and loud noise/music after 10 PM is strictly enforced as well.
By understanding and following these rules and regulations while camping at D.L. Bliss State Park Campground, visitors can ensure that everyone enjoys their stay safely!
23. Clear Lake State Park Camping
Escape the city and head to Clear Lake State Park for an unforgettable camping experience! Situated lakeside in Kelseyville, Northern California's stunning beauty is sure to take your breath away.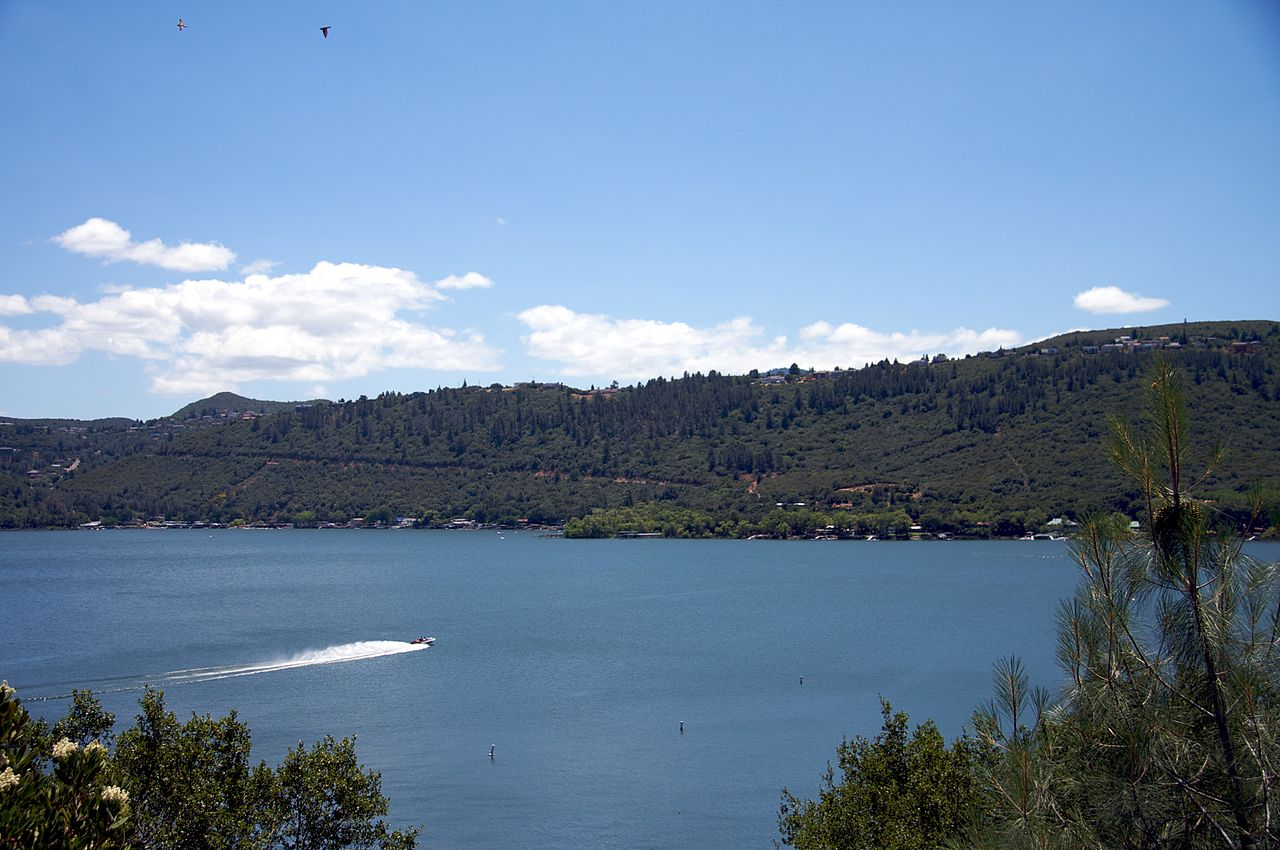 Clear Lake, Kim Joar Bekkelund(CC BY 2.0)
Whether you're looking for peace or adventure, this location promises it all – come see why so many campers keep returning year after year!
You can take in some fishing, swimming, or boating while you camp along the lake's edge or stay at one of their many cabins and lodges which are surrounded by lush trees.
There are also plenty of hiking trails around so you can explore the Eastern Sierras or just enjoy peaceful moments of solitude in nature.
Whether you're planning a weekend escape with your family or an extended vacation to reconnect with yourself, Clear Lake Park Camping will provide exactly what you need.
Are There Cabins Near Clear Lake State Park?
Experience the blissful serenity of Clear Lake State Park Camping, where cozy cabins snuggled among the trees entice you with the sweet comforts of home.
Discover your perfect camping abode with an array of sizes and amenities to choose from!If glamping is more your style, there are several luxury options available including ones with on-site hot tubs!
There are also some smaller cabins located right on Clear Lake Shore for those wishing to be close to the water's edge. No matter what type of accommodation you're looking for, Clear Lake State Park has something perfect for every camper.
24. Lake Siskiyou Camp Resort
Get ready for a nature-filled, picture-perfect adventure at Lake Siskiyou Camp Resort, tucked away in the magical realm of Mount Shasta!
Find yourself enveloped by enchanting forests, frosty mountain tops, and serene meadows, creating the ultimate chill zone to be at one with Mother Earth.
Unleash your wild side with oodles of activities like angling for that big catch, rip-roaring boating, and even galloping on majestic horses!
Trust us, this family-tastic camp resort promises an unforgettable experience for everyone!
Options For Nearby Hiking Trails
For hikers looking for an exciting outdoor adventure, there are several nearby trails to explore.
While in the area, visitors can take a stroll along Lake Siskiyou Trail, forge up the rocky terrain of Gray Butte Trail, or follow the winding pathways of Castle Lake Trail.
Each trail offers stunning views and interesting wildlife encounters that can't be found anywhere else.
25. Lake Almanor – North Shore Campground
Nestled in the serene beauty of Northern California, Lake Almanor North Shore Campground is an exquisitely picturesque spot to set up camp and explore the great outdoors.
With stunning mountain views all around and crystal clear waters before, there's no better way to enjoy nature than by camping at Lake Almanor.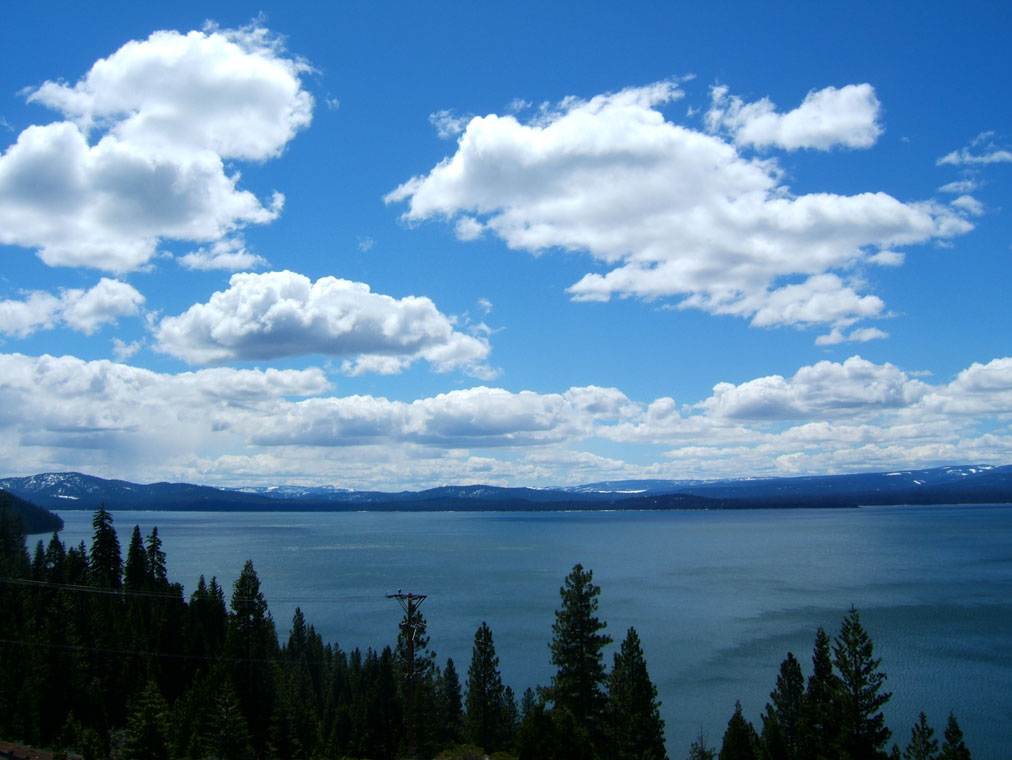 Lake Almanor from Johnson's Grade, Kmmontandon Wikipedia, Public domain, via Wikimedia Commons
Amenities such as restroom facilities, showers, and a general store make it a great destination for both long stays and quick stops.
With plenty of outdoor activities such as fishing, boating, swimming, and hiking available in the area, there is something for everyone at this picturesque campground!
Nearby Attractions And Restaurants Near The Campground
There are plenty of nearby attractions and restaurants near the Lake Almanor North Shore Campground.
The McArthur Burney Falls State Park is a short drive away and is home to some breathtaking waterfalls, perfect for a picnic or day-long hike.
If you're in the mood for a bite, the High Lakes Restaurant and Tavern offer delicious gourmet dishes with its homemade beer.
Get ready for a splashtastic time at Almanor Lake, where fishing, boating, and swimming adventures await to make your stay unforgettable! 🎣🚣‍♀️🏊‍♂️
Conclusion
What better way to spend the days of summer than enjoying some time at one of California's gorgeous lakes!
The breathtaking beauty and peacefulness of these magnificent bodies of water have drawn campers of all ages and backgrounds for generations.
So why not take a road trip and explore the unique lake camping spots and sites that California has to offer?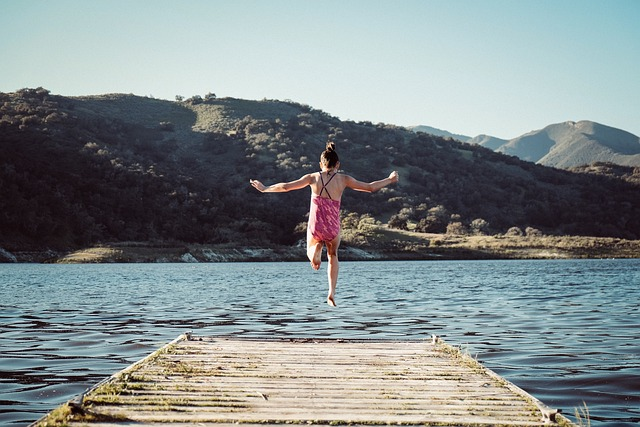 From beach-front campgrounds offering a more vibrant setting, to those tucked away in remote areas useful for solitude, there is something for everyone.
With new discoveries each time you come camping, you'll be sure to enjoy a new adventure no matter how many times you return to the Sierra national forest or traveling the northern California coast you'll be sure to find the right california lake campgrounds that you'll enjoy.
So pack your bags and don't forget the s'mores; summer vacation awaits!
Read more articles here.